Young Swingers® Week at Hedonism II featured in the June 2016 Cosmopolitan Magazine
May 13, 2016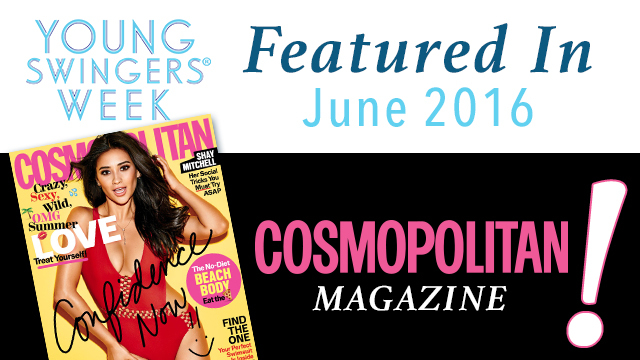 FOR IMMEDIATE RELEASE – Young Swingers® Week at Hedonism II featured in the June 2016 Cosmopolitan Magazine.
NEGRIL, Jamaica, May 12, 2016 /Press Release/ -- Cosmopolitan Magazine reporter Anna Breslaw attended the Young Swingers® Week event at Hedonism II in Negril, Jamaica with her boyfriend to see what would happen when they a vanilla ("non-swinger") couple spends the week with other swinger couples.
This magazine article shows a bold move on the part of mainstream media to accept others lifestyle options that were once taboo as something that can be openly acceptable to write about.
The article goes on to explain Anna's experiences as she entered a new world for her on nudity and swinging.
Young Swingers® Week is going into it 4 year of events at Hedonism II which occur twice a year. The upcoming March 2017 event will be close to the range of 400 attendees. The size of the events grow as many attendees return yearly and more new attendees join the action.
The event gives the attendees to name necklace color choices. Red necklaces are for "Situational Full Swap Swinger" meaning right people, right time, and right place. Whereas, the green necklaces are for beginners, open-minded, and soft swap ("kissing, oral and girl-girl") couples. At every event the numbers of green verses red necklaces are split 50/50, so there is something for everyone. The names on the necklaces help attendees remember each other's names.
During the Young Swingers® Week event there are sexually charged them nights such as; Naughty School Girl Night, Fetish Night, Toga Night, and Bikini Night. For contests Young Swingers® Week has a variety such as; Pole Dancing Contest, Naked Goat Racing, Naked Twister, Golden Shower Contest, and a Cock n' Tail party where the girls earn tickets from the guys to win cool prizes.
Statistically from previous events the average age range of attendees has been 20's, 30's and younger 40's. Many of our attendees were born in the 80's and 90's, so this is really a week for them to associate with people in their own peer group and age range. Everyone who goes to Hedonism is "Young at Heart", but this is the week for "Young People to Unite at Hedonism". We had so many compliments at our last event from people in their 20's and 30's stating this is the first event that they did not feel like the youngest person and how much they loved that. 18 years old is the minimum age for the event, and the drinking age in Jamaica is also 18.
The event is all-inclusive with top shelf drinks, great food, lots of entertainment and no tipping.
July prices start at $187 per night per person and March prices start at $228 per night per person.
The dates of upcoming Young Swingers® Week at Hedonism II events are:
July 23rd to July 30th, 2016
March 18th to March 25th, 2017
For More information on the June 2016 Cosmopolitan Magazine Article visit:
http://www.youngswingersweek.com/as-seen-in-cosmopolitan.html
CONTACT:
Phone: 1-855-777-9464
---
Want to stay up-to-date with what's going on?